The Best Remote Controlled Vibrating Panties
In the 2009 movie The Ugly Truth, Katherine Heigl hilariously tries to navigate a business dinner while wearing vibrating underwear given to her by Gerard Butler. While this particular scene was probably shot more for comic effect than sensual play, it goes to show there's absolutely no reason your toys need to stay hidden away in your goody drawer at home. Playing in public can be fun, and who knows? You might score a few business deals while you're at it too!
Work talk aside, vibrating panties are a great toy to have in your toybox. They can be used at home to spice up your routine, or out and about with your partner, since most of them come with remote controls. Just imagine getting kinky together while at the cinema, or when doing something otherwise mundane, like shopping at the supermarket. Really, the possibilities are endless, and there's something super exotic about relinquishing all power and control to your partner.
So, to help you get more acquainted with the glorious masterpiece of engineering that is the vibrating panty, we've rounded up six of our favorites to share with you. Let's get vibin'.
My Secret Screaming O Rechargeable Remote-Control Panty Vibe
The first thing you should know about panty vibes is that some come with their own underwear, while others have vibes that can be inserted into any underwear you already have at home. The My Secret Vibrating Panties by Screaming O is a complete set with all the essentials you'll need. There's a lace panty (available in black, pink, or red) with side ties for an adjustable fit, and within the panties is a pocket that allows you to slip in the rechargeable bullet vibe. The vibe can be controlled by either a push button on its body or by a discreet silicone ring that you can pass off to your partner. Ten rumbly sensations allow your partner to tickle and tease you while slowly building toward explosive pleasure. 
Lock-N-Play w/ Wristband Remote Panty Teaser by CalExotics
There's no wrong way to use a panty vibrator. If you want to use yours for a sexy night around the house with your partner, by all means, go for it. But we like, nay, love, this particular model for getting a little frisky in public. The remote control is totally inconspicuous (it looks just like a techy wristband or watch!), lasts for up to 90 minutes of play, and has over a 30-foot radius range, so you can play with your partner everywhere from opposite corners at parties to adjacent aisles at the supermarket. The massager itself is made from soft silicone and totally easy to use, thanks to its lock-in-place technology—just slip it around the gusset of any panty. And 12 intense functions of vibration make it a versatile addition to your toybox. Buy it here.
Pan-T Vibe by Adrien Lastic
The Pan-T by Adrien Lastic is the thinnest of all panty vibes and has perhaps the most revolutionary design. Made from silicone, this toy comes in the shape of a "T" with a buckle-like slide on the top part of the T and the vibrator on the bottom. This whole segment then hooks onto a harness strap. If you're having trouble visualizing this, just imagine the shape of a G-string. This design not only keeps the vibe from slipping and sliding out of place, but it allows the user to wear any type of underwear they prefer over the toy. It's whisper-quiet for wearing in public, despite its 10 powerful knee-shaking vibration modes. Control the sensations yourself with the remote or pass it off to a partner for a little exotic play. While the remote isn't as sleek at the Lock-N-Play remote, this one looks a bit like a garage key opener, so it's still pretty discreet if you ask us.
Sensuelle Pleasure Panty
For those who have a kink for vibing in public or those who might even be new to vibrators altogether, the Sensuelle Pleasure Panty is a great starter set. The bullet vibe offers 15 different functions, so there's a lot of room to explore what feels just right to the wearer, and the remote control and near-silent operation allows for a little privately public naughtiness, not to mention the thrill of surrender play with a partner. When all played out, both the bullet and remote can easily be charged via the included USB charger.
We-Vibe Moxie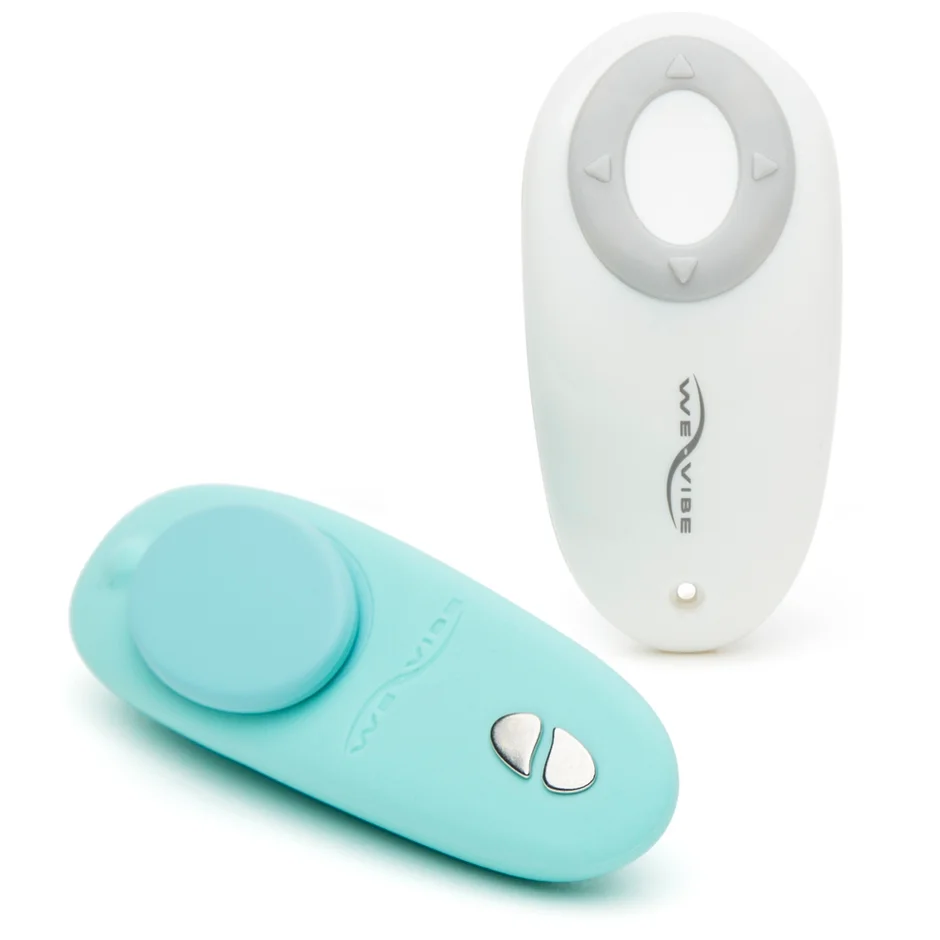 The We-Vibe Moxie's sleek and discreet design is approached a bit differently from the other wearable vibes. It's kept in place by strong, slip-proof magnets, which allows you to wear it with any underwear you choose! The contoured shape fits nearly all body types comfortably with a slim design made from body-safe silicone, and it offers more than 10 different vibration intensities. It comes with a simple wireless remote, but what makes this toy even more fun is that it can be controlled via Bluetooth by We-Vibe's We-Connect app on your or your partner's smartphone. This means your partner can control it from literally anywhere, no matter the distance. We're talking as far as Paris to Tokyo, people!
Fantasy for Her Crotchless Panty Thrill-Her
And last but not least, the Crotchless Panty Thrill-Her Vibe by Fantasy for Her, a toy that we think will redefine date night. This lacy panty comes in a gorgeous lavender hue with a stitched-in pocket that holds the vibe right against the clitoris just above the crotch. Once in position, it can be controlled via a remote during sex for simultaneous clitoris and vaginal stimulation. This toy offers 20 vibration modes, so even if you aren't in the mood for penetrative sex, at the very least, it's great for a little hanky panky at the restaurant or movies.
In Conclusion
Technology has unquestionably come a long way in the sex toy world. Couples can use vibrating panties to play a couple feet away or in entirely different cities altogether. Whisper-quiet toys make the "taboo" of playing in public even more exciting, and a variety of designs allows users to find the right type of fit for their pleasure and preference. Take a cue from The Ugly Truth.
Katherine Heigl and Gerard Butler's characters were onto something good.